While no tool is perfect, Microsoft® Visio is widely used for modeling databases. It isn't a full CASE tool but it is very helpful to prepare drawings rather quickly.
The following is a brief tutorial on how to use Microsoft® Visio. It covers how you would implement a UML static class diagram to represent a data model.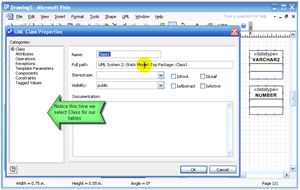 A few words of caution on using Microsoft® Visio. The templates are great if you want to see how some generalized drawings would look. They aren't great at rendering complex drawings because some of the drawing objects behave in unexpected fashion when overlain by other drawing objects. You can build all your own base elements in a flow chart template and eliminate overlaying quirks of the product.
One Response to 'Visio Tutorial Movie'
Leave a Reply